Facebook Shops versus Marketplaces – what is the best strategy for your online shop?

Facebook is meant to connect you with the things you like. This applies to friends and family, but also to products, brands and companies. For a few years now, people have been using Facebook's apps to buy and sell things. In the beginning, this was mainly via the personal feed. You put your old bike online and your friends would see that you wanted to sell it.

Nowadays, selling things is done through Facebook's Marketplace. The platform is therefore no longer a channel for merely connecting with acquaintances. What does this mean for you as a retailer? It is an additional sales channel, and you could benefit from the large daily number of visitors. In this article you can read more about:


There is a lot involved in selling your products through Facebook Marketplaces or Facebook Shopping. At Brandsom, we have done the research for you. We specialise in selling through marketplaces and offer a wide range of marketplaces related services. Click on the arrow below and contact the Brandsom marketplace consultants through our contact form to request a free consultation.

Facebook Shops: what is it?
Facebook Shops makes it easy for companies to set up an online shop. Visitors come to your shop both via Instagram and Facebook. Creating Facebook Shops is free and simple. As a seller, you choose the products you want to showcase. You can even customize the look of your Facebook Shop with a cover image and accent colours that match your brand.

No matter how big or small you are or what your budget is - everyone can use Facebook Shops at any time. Customers can get in touch with you whenever it's convenient for them. Through your Facebook Shops or Instagram, visitors can see at a glance what you have to offer. They can even save the pictures and come back later to actually buy the product.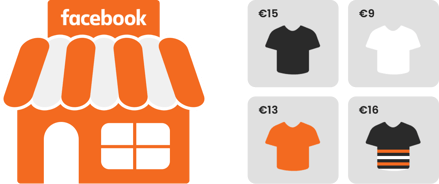 How Facebook Shops works
Have you become curious about Facebook Shops and want to get started? In the following step-by-step plan we explain how it works.


If you already have a Facebook and/or Instagram account, you may be asked to convert your account into a Shopping account. Your profile will not just be a window display, but will actually be used to convert visitors into paying customers. Before setting up the profile, you'll receive an email or notification that you can now use the shop. After this, it's time to upload your products.
Adding your products is done via the Commerce Manager.
You can create collections to decorate your shop and attract customers. You can do this, again, by using the Commerce Manager. Give each collection a suitable name, description and cover photo. Each collection must contain at least 2 products.
With Facebook Shopping, you can present your brand and products in a native mobile experience. Customers can find your shop on Instagram or Facebook through their mobile phone after you publish it. Your shop can be viewed as a full-screen experience and your collections are displayed to customers as personalised products. When you add new stock to your shop, people see it in their news feed, which encourages them to visit your shop.
Furthermore, you can adjust features for all apps from one central point. These include products, address details, opening hours and payment methods.
What are the benefits?
A big advantage of Facebook Shops is that it is free, although the platform might persuade you to use the Facebook marketing opportunities as well. It is quite easy to use and the platform has clear, step-by-step instructions. If you only sell a few items or only want to sell through a Facebook shop, this might be all you need.

Setting up a business account will also allow you to sell on Instagram and WhatsApp, while managing these accounts in one place. However, if you want to advertise to attract more visitors and customers, you can do so on the app where your target audience is best represented. You can even set the targeting in the apps to show your collection to the right people. This way, you get value for the money you spend on advertising.
Facebook gives you various metrics to find the perfect target group. However, Facebook assumes that everyone is on Facebook. This is not necessarily true. Facebook's target group is a bit biased. Do you not know which target group to reach? Brandsom can help you reach the right target group for your product through Facebook.

Similarities and differences with Facebook Marketplaces
There are two ways to sell products on Facebook. But what are the differences, and do you need to be present in both places as a seller? Below you can read more about what suits your needs best.

Facebook Marketplaces
Facebook Marketplaces can be compared to the Dutch Marktplaats.nl. Facebook Marketplace has less to do with shopping and acts as a place where users - whether individuals, sellers or manufacturers - can list their products and corresponding prices all together.

Buyers can view the product list and contact the owner to buy, negotiate or inquire about the product. It acts as a site for sellers to contact buyers and vice versa. There are no payment features via Facebook Marketplace; payment is arranged between the parties.

Facebook Shopping
Facebook Shops is the feature offered by Facebook where you can post and sell your products through your Facebook page. This means that you can tap into a Facebook audience much more easily and use it to reach a huge customer base.

Facebook Shops allows customers to view your products directly from a Facebook page, along with the ability to checkout without ever leaving Facebook. It also redirects customers to your external e-commerce store/site.
Conclusion: Facebook Shops or Facebook Marketplace
If you want to sell something as an individual, Facebook Marketplace is the best option for you. As a business, you can also be present here, but you cannot carry out your identity, give an address or change opening hours. Facebook Shops, on the other hand, does allow you to do that.

If you want to display your entire collection and ensure that visitors convert via Facebook, you should use Facebook Shops. Due to its extensive features and time-consuming nature, it's not very useful for individual users. Both platforms are good for businesses, because it is a free channel to promote products. The advice for sellers is, however, to start with the most relevant one, so you don't end up getting lost on Facebook.

Do you wish to successfully start using Facebook Shops and Facebook Marketplaces? Contact the specialists at Brandsom
If you are thinking of selling on Facebook but don't know where to start, our consultants at Brandsom are here for you to answer all your questions. We can help you with setting up and implementing a sales strategy. We have done the research and know what is best for your product, service or brand. Get in touch with us by filling out the contact form or send an email to contact@brandsom.nl. You can also call us at 030-2270520.