Instagram Shop and Facebook Pay will be officially introduced on July 16, 2020.

Instagram aims to become "the best place to discover and shop products" and gain a significant share within e-commerce.

Instagram already allowed products to be tagged with a link to the provider's website, but Instagram has developed two new features:

1. A private Shop page on your profile

2. A general Shop page offering products from different companies and brands that match the user's interests.

On July 16, the public pilot of Instagram Shop started in the United States and will be rolled out in the rest of the world a few months later.

Instagram has always been a place where consumers search for and buy products. 70% of consumers use Instagram for inspiration. 87% report that influencers have inspired them to make a purchase.

Instagram Shopping allows products to be tagged in photos and videos and purchased instantly. Instagram Direct Messenger allows the customer to ask questions of the company and the company can send updates to the customer.


Instagram Check out
With Instagram Check out, the entire customer journey can take place within the app. Consumers see a product that appeals, click on it and then can order and pay without leaving the app. This reduces the chance of losing a consumer in the customer journey. Instagram Check out is currently only available in the United States and will later become available in the Netherlands.

The first steps to begin an Instagram Shop

Follow the steps below to start selling on Instagram and use Shopping tags, among other things.
1. Check your eligibility
- Your business is located in a country where Instagram Shopping is active. These are almost all countries in Europe. You can find the list here.
- You have an eligible product.
- You have a website where you sell products.
- You agree to the Instagram terms and conditions.
2. Change your account to a business account
At settings on your Instagram profile you can switch to a business or creator account.
3. Connect your Instagram to a Facebook page
Go to your Instagram profile page and click "Edit profile". Click on "page" under the heading public company information. Choose the page to which you want to connect your Instagram shop.
4. Upload your product catalog
You can add products yourself in Facebook business manager (read how: https://www.facebook.com/business/help/1275400645914358?id=725943027795860) or you can add products via an e-commerce platform partner such as Shopify or Bigcommerce .
5. Account check by Instagram
When your product catalog is connected to your Instagram page, you can have your account checked by Instagram. This normally takes a few days.
Go to Settings
Click "sign up for shopping"
Follow the steps to have your account checked
Check under "shopping" in settings what the status is of your request
6. Turn on shopping
Go to settings

Click on 'Business' and then 'Shopping'

Select the product catalog that you want to link to your account
7. Tag products in your photo
To tag products in your Instagram post, first add a photo as normal. Next:
Click on 'Tag Products'

Click on the photo and select the product

Click on 'Done' and 'Share'
8. Shopping sticker in Instagram Stories
If you have selected a photo for an Instagram Story, take the following steps before posting the Story:
Click on the sticker icon in the top right of the screen

Select the product sticker

Select the product you want to highlight from the product catalog

Move the product sticker to where you want it in your Story

Change the text or the product sticker by clicking on it

Share your story
Instagram Shopping opportunities
Your own shop on instagram
Instagram offers the possibility to create a shop on your own profile page. The layout can be adapted to the corporate identity of your company.
Shopping tags
With Shopping Tags, companies can tag products from their catalog in the Instagram stories and on the profile itself.
Shop in explore
The explore tab is used by consumers to find new trends or products. Here products are shown that are tagged by brands or influencers, and they are selected based on the interests of the user.
Collections
Within the Instagram shop of companies, they can select certain products and bundle them into collections based on a specific theme.
Product Detail Page (PDP)
On the product detail page (PDP) all relevant information about a product is shown including the price, description, photos and videos. PDPs bundle all media that the product is tagged in on Instagram so that consumers can see how the product is worn or used in different ways.
Shopping ads
Businesses can reach more people by promoting their posts in Instagram Ads Manager.
Checkout
With Instagram checkout, consumers can quickly and easily buy products without leaving the Instagram app. Checkout is currently being rolled out in America. Other companies can use the other shopping functionalities where consumers are linked to their own website to complete the order.
Shopping on personal pages
Instagram Shopping makes it possible for influencers and content creators to make their posts shoppable (marketable) without having to leave Instagram or change profile. This is currently only possible with a select number of brands.
Product launches
This is a way for companies to announce future product launches on Instagram. This allows consumers to see the product in advance, and they will also receive a notification when the product becomes available. At the moment this feature is only available for a select number of brands.
Instagram shopping set-up tips
Pictures
Use clear and consistent images in the product catalog. Avoid cropping or scaling images for Instagram. Make sure the products are centered and visible with a plain background.
Context
Add multiple photos that give a good idea of what the product looks like. Consider showing multiple angles, colors, different models, and unique product features.
Product detail page (PDP)
Uploading a video can help to see what the product will look like when it is worn.
Content from influencers
Posts tagged by influencers will automatically appear on the product's PDP. By partnering with influencers who match your brand, you can increase visibility and more diverse product photos.
Complete product information
Provide correct and complete product information.
Stock: an accurate stock.
Product Names: Concise and consistent with other sales channels.
Product descriptions: material and unique product properties.
Sizes: provide a clear description of the sizes and keep different sizes in stock.
Shipping costs: it is possible to charge different shipping costs.
Prices: accurate prices and consistent with our own sales channel.
Tips for selling on Instagram
Create content that informs consumers about your products to make purchasing decisions easier. Three ways to boost sales are:
Wear or use the product you are selling and give tips on how to wear or use it
Provide information about fit and sizes
Ask consumers to enter their questions in the "question bar" in Instagram Stories. Then answer these questions in your Instagram Stories.
Frequently asked questions can be saved as a highlight on your profile so that consumers can quickly find an answer to their question.
Identify cultural moments that fit your brand and consumers and create shoppable content that fits those moments.
Put a clear call to action in the description with the photo.
Create a calendar with important moments for your brand or consumer and plan ahead.
Stay authentic!
Work with influencers
You can work with influencers who tag your products on their own Instagram profile. Others can view and purchase the product by clicking the link.
Content created by influencers can help to:
Make your product part of a culture or community
Reach new consumers
Inspire consumers to make a purchase
On Instagram you can set up "approved accounts" and select the influencers who can promote your product in shoppable posts. The advantage of influencers is that they know their audience and the latest trends. They can create authentic content by wearing or using your product in the way that suits them and inspires their audience.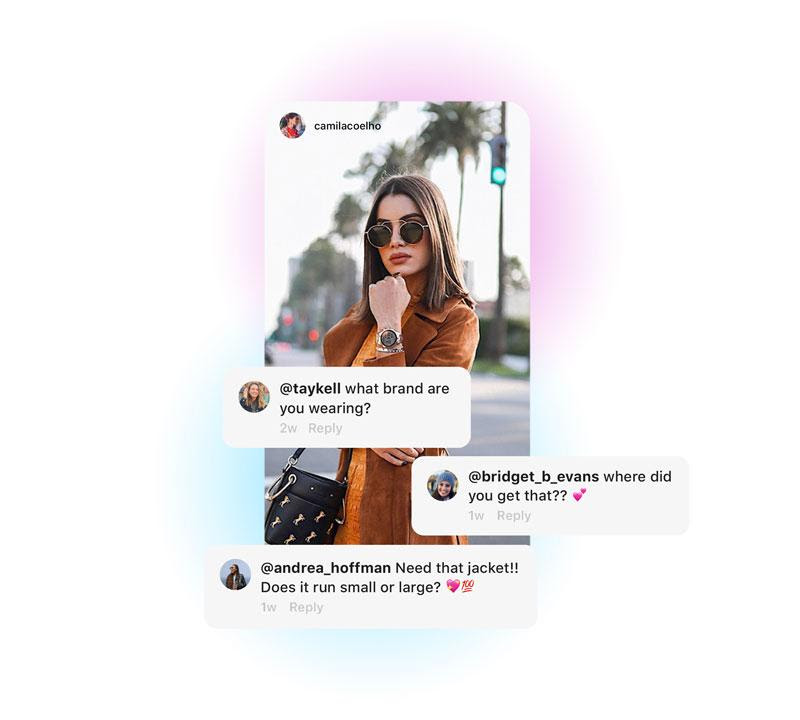 Source: Instagram.com