Everything you should know about Zalando Return Solutions
If you are a fashion retailer using the Zalando Partner Program, you will at some point have to deal with products that are returned. This obviously is not the most fun part of doing business. Fortunately, Zalando takes good care of this aspect for its partners. This article will give information on how to make the return process efficient and cost-effective.
Contents: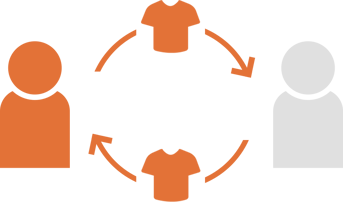 Brandsom offers a wide range of marketplace related services that help your brand sell on Zalando. We help you fully integrate, onboard, and market your product on various marketplaces. Curious about what we can do for you? Click on the arrow below and get in touch with one of our marketplace specialists for a no-obligation consultation.

Why is a streamlined return policy important to Zalando?
Being a major marketplace for fashion, Zalando has many customers to satisfy. A streamlined return policy increases customer satisfaction and results in low return costs for partners and retailers. Zalando always recommends sending the products in one box.
By properly advising partners on how to sell and market their products, Zalando hopes to reduce return rates. For Zalando Germany, return rates are around 50%. About 57% of all questions directed to the Zalando Customer Care Service are about returns. These questions can vary and are usually about:
returns that have not yet been reversed;
the request to send a new return label;
the tracking link of returns not being active;
the return being processed without being refunded yet;
the return amount is only partially being processed.
How to reduce the number of returns?
Ideally, as a fashion retailer, you want to keep the number of returns as low as possible. There is a lot of work to be done if your customers are returning 50% of your products. Where should you even start? Zalando's advice is to pay attention to content.
In fashion, it is especially important to optimize size charts, titles, and findability. Customers primarily return products when they do not fit properly. In addition, there is a high turnover of products. Therefore, optimizing your product information can be a lot of work. For seasonal products, you may choose to keep the product information basic. However, make sure to pay close attention to the products you sell year-round. Fewer returns are ensured when you include the right information with your products.
Big brands are now showing their products through various models with different body types. This way, customers get a better idea of how the clothing will look on their body, preventing a distorted view and possible returns. This indicates that appealing and identifiable content can definitely drive down return rates.
What are the benefits of Zalando Return Solutions?
The benefits of Zalando Return Solutions for customers are as follows:
It is easy for customers to scale up and internationalize
Lower costs, resulting in higher profitability
Higher customer satisfaction
Other benefits include:
Saving on logistical costs thanks to Zalando's return service
Increase in customer satisfaction because:

Only one return package is needed for each item ordered through Zalando;

Seamless online return flows;

Home pickup and scheduled return possibilities.



How does ZRS work? Increase customer satisfaction and reduce return costs by consolidating returns into one box and transferring the process to Zalando. For this model, it applies that:
the customer uses a single box and returns label for all return items;

all returned items go to one of Zalando's warehouses where the items are received, checked, and repackaged;

received returns are consolidated and sent to the partner on a weekly basis.
This model ensures as few links as possible and is in line with Zalando's sustainability policy and the goal of reducing CO2 emissions.
Zalando Return Solutions: how does the process work?
When using Zalando Return Solutions, the process is clear and unambiguous. Customers send all products coming from your fashion webshop to the Zalando Fulfillment Center themselves. Upon arrival, the products automatically become ZFS items, meaning Zalando's staff checks the product for quality.
The data regarding the number of returns goes to Zalando's Customer Service. They will contact you to settle the costs. The advantage of ZRS is that you, as a seller, have to spend less time on returns. If the product is sold again, it is automatically shipped from the Zalando Fulfilment Center.
How can you ensure a good return policy yourself?
If you're a person who likes to take care of returns yourself 一 whether or not in collaboration with Zalando 一 a well-run returns process is just as important. To streamline this process, we advise you to use an integrator. By doing this, you can automatically submit all your products to Zalando's platform. Orders are automatically processed and inventory is maintained. The integrator provides an interface where you can view your products, orders, and inventory.
Examples of great integrators are:
TradeByte
ChannelEngine
Vendiro
ProductFlow
Zalando's Partner portal zDirect.

Integrator software can be complex, and it usually takes a while to figure out all the options. As a certified partner of several integrators, we know exactly what is needed to successfully integrate your systems with various marketplaces. If you need help with finding the right integrator, get in touch with us by filling in the contact form below.
Need help with Zalando Return Solutions? 一 Get in touch with a consultant!
Are you a fashion retailer and interested in learning more about Zalando Return Solutions? Get in touch with one of our consultants by filling out the contact form. Find more information on our homepage, check out our service page or contact us at contact@brandsom.nl / 030-2270520 and request a no-obligation consultation.