Selling on Allegro - how to expand your webshop to Poland
Are you a retailer looking to expand into markets within Eastern Europe? Then Poland is a great starting point. Allegro is the most trusted consumer brand in Poland, visited by nearly 21 million customers looking for the best products at attractive prices. Over 200 million offers and 128,000 sellers from all over the world make Allegro the best place to start your adventure with online business in Poland.
If you're looking to sell primarily through online channels, then using the Allegro marketplace is a great way to kickstart your business in Poland. In this article we will talk about the advantages for you as a seller on the platform. The topics we will discuss are as follows:
Want to make selling on Allegro's platform a success? We recommend setting up an appropriate strategy and hands-on implementation. At Brandsom, we specialise in online marketplaces and help brands successfully sell their products on platforms like Allegro. We offer a wide range of marketplace related services that benefit your sales on various marketplaces. Want to know more? Click the arrow below to get in touch with one of our consultants.

About Allegro
Allegro was founded in 1999 in Poznań. They started as a small company and have now grown into the largest marketplace in Poland. The company also has offices in Warsaw, Toruń, Wrocław and Krakow.
Allegro has experienced significant growth since 1999. At the time, they were doing business from the basement of a computer wholesale company. The first version of the website was very basic, so much so that the whole thing fitted onto just one floppy disk. At that point, e-commerce was still in its infancy in Poland. Allegro, as a webshop, has since contributed significantly to the growth of the Polish e-commerce market. In over 20 years of its existence, the Allegro platform has become Poland's most trusted online marketplace.
The company itself also underwent a major transformation as they started as an auction site for hobbyists. Below, we have listed some facts and figures of Poland's largest online marketplace:
The company has 5 offices spread across Poland.
A total of 2200 employees work for the online marketplace.
Allegro is the best known online shop for 80% of the Polish population.
There are 125,000 B2B sellers on the marketplace.
These sellers collectively account for 200 million offers.
Allegro is the 10th most visited e-commerce platform worldwide.
Allegro receives 20 million visitors on the platform every month.
The webshop has a very large range of products in all kinds of categories.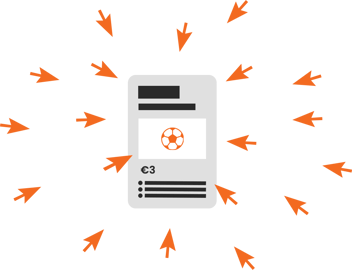 The advantages of selling on Allegro
Selling on Allegro has several benefits for your webshop. As a seller on the platform, you can take full advantage of the millions of visitors that come to the online marketplace every day. To give you an idea of the benefits Allegro has to offer, we have listed some of them below.
Allegro increases awareness of your webshop and generates additional sales
As a relatively unknown seller, you benefit from the growth and traffic of a platform with national recognition. Vendors reported that their sales increased with an average growth of 18% as a result of being on Allegro.
You don't need any starting capital when you start selling on Allegro.
You only pay commissions if customers actually buy products from you.
There are no requirements regarding the minimum and maximum number of products sold or the time spent on the platform - you can sell without any obligations or risks.
A Polish bank account is not required
The only thing you need is a PayU account, which is a payment system that Allegro facilitates. From PayU, you can easily transfer your earnings to your own national account.
Things you should know before selling on Allegro
Registration in order to sell on Allegro is easy. However, there are a number of things you need to consider as a seller.
Registration and setting up a payment method
Registration on Allegro is quick. Simply go to allegro.pl and click on "My Allegro", then click "Subscribe" and follow the instructions. In your Allegro account you will find a link to create your PayU account. You will need this to transfer all turnover to your own account.
Currency
The only currency traded on Allegro is the Polish zloty (PLN), therefore, PayU will store the money and send it in PLN. However, your local bank can help you convert the PLN into your preferred currency. Indicate this to your business bank where you have an account as a company.
Standard and recommended shipping and return policies
Allegro advises to offer free shipping. It is also recommended to provide a local return address because this makes you more reliable as a seller.
Dimensions and inventory
Allegro offers no restrictions on the size of products and it doesn't matter how many products you offer on the platform.
Handling stock
It is best to use a local warehouse for storage and distribution. This makes the shipping and return process easier for both you and the customer who buys from you.

The costs of selling on Allegro
Unlike other popular e-commerce platforms, Allegro has not introduced mandatory monthly subscription fees, set-up costs or product listings charges. Sellers do pay commission on the products they sell. We have listed the commissions from the top-selling categories below:
Pet supplies - 11.5%
Office supplies - 10 to 15%
Jewellery and watches – 15%
Toys – 10%
Photography – 10%
Books and comic books - 8%
If you sell products in one of the above categories, you know exactly how much commission you pay per product sold. You can even calculate what you pay for your total stock.
In addition, you can take advantage of the Allegro Smart programme, which encourages customers to buy more because it grants them free shipping. Since free shipping is hard to resist, Smart offers are chosen more frequently by customers. This in turn has a positive impact on visibility for you as a seller. Lastly, Allegro covers the cost of returns with Smart.
Want to know more about selling on Allegro? Feel free to contact the consultants at Brandsom
If you're thinking of expanding your business beyond national borders and are looking for advice from marketplace specialists, then get in touch with one of our consultants to discuss the possibilities. Whether your brand needs help with advertisement, content optimisation, translations, integration, or logistics services, we offer flexible short term focussed services and also the possibility to outsource your entire marketplace operations.
Find more information on our homepage, check out our service page or contact us at contact@brandsom.nl / 030-2270520 and request a no-obligation consultation.