At the moment sustainability is an important topic. For many consumers, it is an important criterion when buying a product. Therefore, as a seller on Bol.com, it is good to be aware of the subject of sustainability within Bol.com. In this article, we will explain what Bol.com is doing in terms of sustainability, which sustainability labels they use, and how you can apply for a sustainability label for your products.
Contents:
Within your marketplace strategy, placing a bet on sustainability can be a good idea, also when it comes to the best strategy for selling on Bol.com. Want to learn more about the best sustainability strategy and the best way to sell your sustainable products on marketplaces? Click on the arrow below and get in touch with one of our specialists.


What is Bol.com doing in terms of sustainability?
In 2018, Bol.com set the goal of enabling climate-neutral shopping by 2025. Bol.com has already achieved a lot in the field of sustainability so far.

Logistics and environment


Delivery: Bol.com works with delivery partner PostNL to deliver their packages to consumers. With the 2025 targets in sight, they are working with PostNL to make the delivery vehicles more sustainable. For example, they prefer to choose green gas or electric transport. Approximately 24% of parcels in residential areas are delivered by bicycle or on foot. If the recipient is not at home, the deliveryman will try to deliver the parcel to a neighbour or to a pickup point. This prevents the delivery driver from driving twice for the same package. This is how the two companies keep their footprint as small as possible.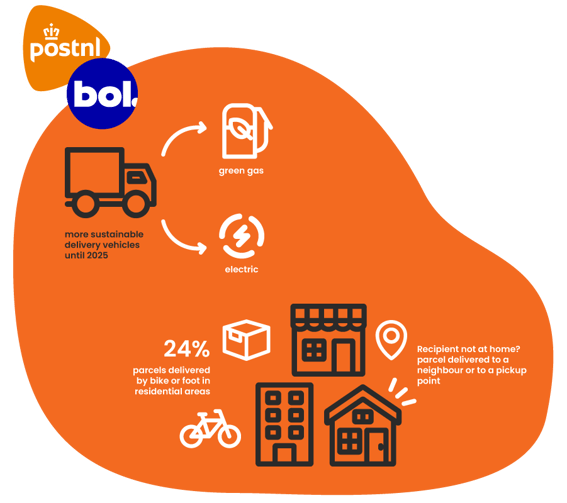 Fulfilment centre: The Bol.com Fulfilment centre is one of the most sustainable buildings in the Benelux. The building is powered by local wind and solar energy. Even bats, birds and bees have their own place here in special nesting boxes. The CO2-neutral building even received the BREEAM Award in March 2017 for all its sustainability measures.


Packaging: By 2025, Bol.com only wants to work with boxes that are CO2-neutral or recycled. If the original packaging is sturdy enough, Bol.com will even omit its own box. Also, 75% of the packages are sent without padding material. The advanced packaging machines pack to size, so the package does not take up unnecessary space in the delivery van.


Buildings: All Bol.com buildings are 100% wind and solar-powered. In the offices, employees separate their waste, and all lights are fitted with LED lighting. The restaurants serve vegetarian and organic dishes with local ingredients whenever possible. PET bottles are specifically not for sale.


Returns: Through extensive product descriptions, sizing tables and reviews, Bol.com tries to provide the consumer with as much information as possible. The goal is to keep the return rate low.




What sustainability labels does Bol.com have?
On their own website, you can find everything about the sustainable assortment at Bol.com. In order to make it recognizable for the customer which products are sustainable, they have created their own labels:

General eco-label: The producers of these products make an extra effort to reduce water pollution and the use of additives, chemicals and plant protection products.

Energy-efficient products: These products can be recognized by the labels F (lowest) to A +++. The highest class is the most energy-efficient. These labels can be found on electrical household appliances.




Fairtrade: This label stands for fair prices, ethical working conditions, local sustainability and fair price agreements for farmers and their employees.




Recycled: The recycled products at bol.com contain at least 50% recycled material.




Refurbished: A refurbished product is a secondhand product, often electronics, that has been checked, cleaned, with any data removed and if necessary repaired. This makes a refurbished product as good as new: it has the life span and technical quality of a new product. As a result, fewer new products need to be made, making refurbished products sustainable.


Secondhand books: These books are still neat enough to read and are looking for a new owner.

Sustainable agriculture & fisheries: These items encourage better growing methods, better conditions for workers and extra care for the environment. You'll find this label mostly on food items and cosmetics.


Responsible materials: In the production of these materials Bol.com looks at responsible forestry, better working conditions and a lower environmental footprint. This label is most appropriate for clothing, paper or wooden items.


How to apply for a sustainability label on Bol.com?
Bol.com likes to make it easy for sellers to apply for a sustainability label. On the website, you will find a form with the steps you need to take. You check whether the product falls in one of the categories listed above, enter the EAN code and send in the form. Within two days you will receive a response from the Partner Service of Bol.com.
Bol.com maakt het voor de verkopers graag eenvoudig om een duurzaamheidskeurmerk aan te vragen. Op de website vind je een met de stappen die je moet nemen. Je checkt zelf of het product in één van bovenstaande categorieën valt, voert de EAN-code in en verstuurt het formulier. Binnen twee dagen krijg je een reactie van de Partnerservice van bol.com.


More information about sustainability at Bol.com?
Would you like to receive extensive advice about selling sustainable products on Bol.com? Find more information on our homepage, check out our service page or contact us at contact@brandsom.nl / 030-2270520 and request a no-obligation consultation.