The terms "sustainability" and "fashion" seem difficult to reconcile. Trends follow each other in rapid succession, and this constantly urges us to buy new clothes. Because consumers are increasingly looking at how to be more environmentally conscious, it is important for the fashion industry to focus on sustainability.

Content article:
Feel free to look around on our site if you want to know more about web shops with sustainable clothing. Interested in the optimal fashion strategy for marketplaces? Click the arrow below to get in touch with one of our specialists.



Why investing in sustainability is a wise step
What does this mean exactly? Sustainable fashion is made with respect for people and the environment. Whether it's about raw materials, energy use, labor rights or transparency in the manufacturing process: all aspects are part of sustainable fashion as an issue.
The modern consumer likes to leave the earth a little cleaner for the next generations. Therefore, it is a good idea for clothing brands to focus on sustainability in their marketing activities. Why do clothing brands miss the mark when they fail to do so?
Overall sustainability trend: the modern consumer is more discerning and environmentally conscious than ever before. Sustainability is not only important for the fashion industry. This trend is also playing out in other sectors. Especially in retail, initiatives such as removing plastic bags, cotton buds and straws from the shelves are appearing.
Even bol.com announced that starting this year they will stop selling products made of disposable plastic. The main reason for this decision is the plastic litter that is floating around in our oceans. According to the European Commission, over 70% of the litter in the ocean is plastic. You can read more about Bol.com sustainability initiatives by clicking the link.


Buying habits millennials and Gen Z: the new generations grew up with the Internet. This source provides them with information to all news sources in the world, so they have quick access to information in the field of sustainability. This makes them aware about the way the clothing industry works. These generations expect brands to cooperate in accommodating them as consumers. Between 2016 and 2019, searches for "sustainable fashion" tripled, according to

Forbes.



Ethically responsible: sustainable clothing is good for both people and the environment. Companies would do well to look at how they can protect the people who are part of the production process. What working conditions are the cotton farmers who pick the raw materials for the clothing under? Are the garments not made by children? An organization that ensures humane working conditions increases the trust with consumers.



Reducing carbon emissions: the activities of companies polluting the environment come to light more quickly because of access to all kinds of information. If a company has very polluting or unethical practices, it is only a matter of time before the media reports about it. Negative reporting creates problems around a brand or an organization. Consumers then withdraw their trust and as a company you see this reflected in declining sales.

Timeless quality clothing: although sustainable clothing is more expensive in terms of price, it still pays off for consumers to purchase this type of clothing. The style and quality of sustainable clothing are characterized as timeless. In stores, you pay a little more for it. But it saves money in the end, because the clothes last longer and the trend is not seasonal. This makes it attractive for consumers to buy sustainable clothing.
What kind of new sustainability initiatives are there within the Fashion e-commerce industry?
As the need for sustainable clothing grows, new initiatives in this area are sprouting like mushrooms. Below are the 7 best known platforms where you can buy this fashion:


SuperTake it Slow: this web shop is an initiative by Laura Snijder. After her studies Fashion &
Textile Technologies she came up with the idea to combine all her favorite fair trade brands on
one platform. The web shop Take it Slow is the result. On the web shop you will find
responsibly produced clothing for women that also looks stylish. The best-known brands you
can buy here are Armed Angels and Matt & Nat.


Thegreenlabels.com: the clothing on this site is not only sustainable but is even produced
in a vegan way. No animals were harmed or used during the production of the clothing and
shoes. Furthermore, the initiators of thegreenlabel.com look at clean processes and reducing
waste during the production of the clothing. Important factors are low water consumption,
sustainable transportation and recycled materials.


SCOON: The sustainable clothing in the SCOON web shop is stylish and of very good quality.
The brands have a positive impact on your skin, the earth and local communities. Besides
clothing, they also sell beauty products, baby stuff, accessories and shoes.


Project CeCe: is a collection website for sustainable and fair clothing. In the web shop you can
see right away which quality marks or sustainability labels the clothing complies with.


Sophie Stone: sells unique fashion items from responsibly produced brands from trendy cities
like: London, Paris, Cape Town, Istanbul and Amsterdam. The style can be described as urban,
stylish and feminine. The 15 different brands all look at good working conditions and a small
environmental footprint.


Rhine Studio: a Dutch initiative of the two former roommates Thijs and Cyril. From their
passion for clothes and sneakers, they started a web shop with hand-painted clothes. After a
while they wondered about the environmental impact of this and eventually changed their sales
strategy. Nowadays they focus on sustainable labels. Their style is urban and cool with
eye-catching prints.


Wolf & Storm: Founder Marlieke Broekmeulen noticed that as a vegan it is difficult to find
clothes that fit her lifestyle. The clothes she used to find were not always fashionable and she
sought an answer to that. Wolf & Storm is the result. The products in these web shops are


sustainable, vegan

and organic.

Zalando sustainability?
Besides these 7 sustainable fashion initiatives, there are many more shops like this to be found today. The choice is only getting bigger. Even the big fashion chains include sustainable fashion in their assortment. Think of H&M, Mango and Zara.
The same goes for online retailer Zalando. In 2020, the fashion platform expanded its sustainable assortment from 27,000 to 60,000 items. The number of customers searching for responsibly produced fashion increased by more than 40 percent by the end of 2020. The new collection is one of many measures Zalando has implemented since the end of October 2019. As a company, they like to contribute to the well-being of people and the environment.
Not only with clothing, but also with beauty products, the German online retailer is becoming more sustainable. Customers have the choice of organic, forest-friendly, vegan and natural makeup and skincare. In addition, they are setting up an initiative for customers to return used clothing in exchange for a discount on their next purchase.
Read more about sustainability at Zalando in this article on our website.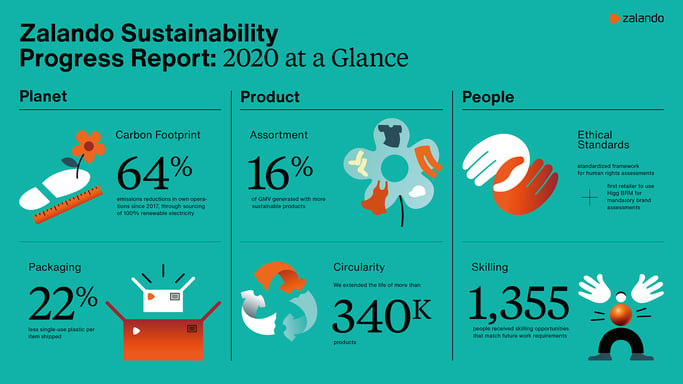 Brandsom helps you determine the optimal sustainability strategy for your fashion brand
Brandsom advises you on how to sell sustainable products as a web shop to meet the new generation of consumers. This of course applies to online fashion retailers such as Zalando and About You. We also give advice on these trends for other online shops such as Amazon and bol.com.
Find more information on our homepage, check out our service page or contact us at contact@brandsom.nl / 030-2270520 and request a no-obligation consultation.