NADUVI is a new online marketplace on the Dutch market with a somewhat different approach than well-known marketplaces such as Zalando or Bol.com. With its product range, NADUVI focuses on the interior design sector. You can find many different home decoration products on their website with discounts ranging from 30 to 80%. The company is growing fast and is far from finished with its expansion. In this article, you will read all about newcomer NADUVI.
Contents:
Where NADUVI is from
What you can find on NADUVI
Why it is interesting to use NADUVI's platform
How you can register as a partner on the platform
The costs for partners

Are you an e-commerce manager or webshop owner in the Home & Living sector and want to know more about selling through Naduvi's platform? The marketplace specialists at Brandsom have the knowledge and expertise to help you sell on various marketplaces. Whether you are looking for help with product onboarding, setting up a specific advertising campaign or optimising product content, Brandsom offers various marketplace related services that can help your brand sell on Naduvi. Want to know more? Click on the arrow below to get in touch with one of our specialists for a free consultation.

Where is NADUVI from and what is its potential?
Like online shopping giant Bol.com, NADUVI was founded in the Netherlands. The company, still considered a start-up as it was launched in October 2019, is growing by double digits every month. In May 2021, the online marketplace raised an investment capital of 8.2 million euros. The company has put in an incredible performance in less than two years of existence.

The company's potential is not only expressed in money, but also in awards that it is winning. In September 2020, NADUVI won the Best Starter Award at the Shopping Award ceremony. All the money raised by the company is reinvested in improving and expanding the platform. With all this success, NADUVI is ready for the next step: growing from a Dutch start-up to an international scale-up. The company's ambition is to become the largest online marketplace for home & living in Europe.
The online marketplace for Home & Living
CEO Itai Gross says he can look back on a very successful first year of operation. According to him, the financing round shows that investors have confidence in the company. Gross openly expresses his ambitions: "To become the largest online interior outlet in all of Europe, and to make many customers happy by offering an appealing range of beautiful items at great discounts."
One of the ways to achieve this is by increasing the offer, which is something that NADUVI has certainly done in the past year by adding new products and brands. Today, the online marketplace for home & living offers 25.000 products and 250 different brands on their platform. NADUVI's plans for the near future are as follows:


Expanding the product range
The successful funding round enables NADUVI to expand its product range. CEO Itai Gross says it wants to grow from 25.000 to 100.000 products. To achieve this, partner channels have to be expanded. For this reason, NADUVI makes it possible for partners to sign up and sell their own products through the platform. They also want to expand their services, such as dropshipping and handling returns, making it easier for retailers to start selling online.


Investing in back-end and front-end
The company is currently investing heavily in back-end development to ensure that all processes between partners, NADUVI, and customers run even more smoothly. It wants to be able to communicate accurately about delivery information and is working hard to reduce delivery times. In addition, the company is taking a closer look at front-end development in order to make the user experience on the platform more appealing.


International expansion
The expansion into other countries shows the brand's strong ambition. At the moment, NADUVI is active in the Netherlands, Belgium, and Germany. As far as the brand is concerned, this is only the beginning as the company has big plans to expand into the rest of Europe.
Why sell your products on NADUVI?
According to research by the French technology company Mirakl, participation in a marketplace by companies and brands can be very interesting. In 2020, online marketplaces collectively grew by as much as 81%. The growth of the platforms is related to the pandemic and associated measures. Because consumers had to stay home, there was no other option than to purchase products online. Due to a bigger online offer, the overall e-commerce market increased by about 40%.
Growth was further fuelled by the number of sellers on marketplaces, which increased by 46%. In addition, the average turnover per online seller increased by 24%. Seller cannibalization does not occur. On the contrary, sellers reinforce each other through representation. Online platforms like NADUVI offer existing vendors new opportunities such as cross-selling and repeat visitors thanks to a wider range of products.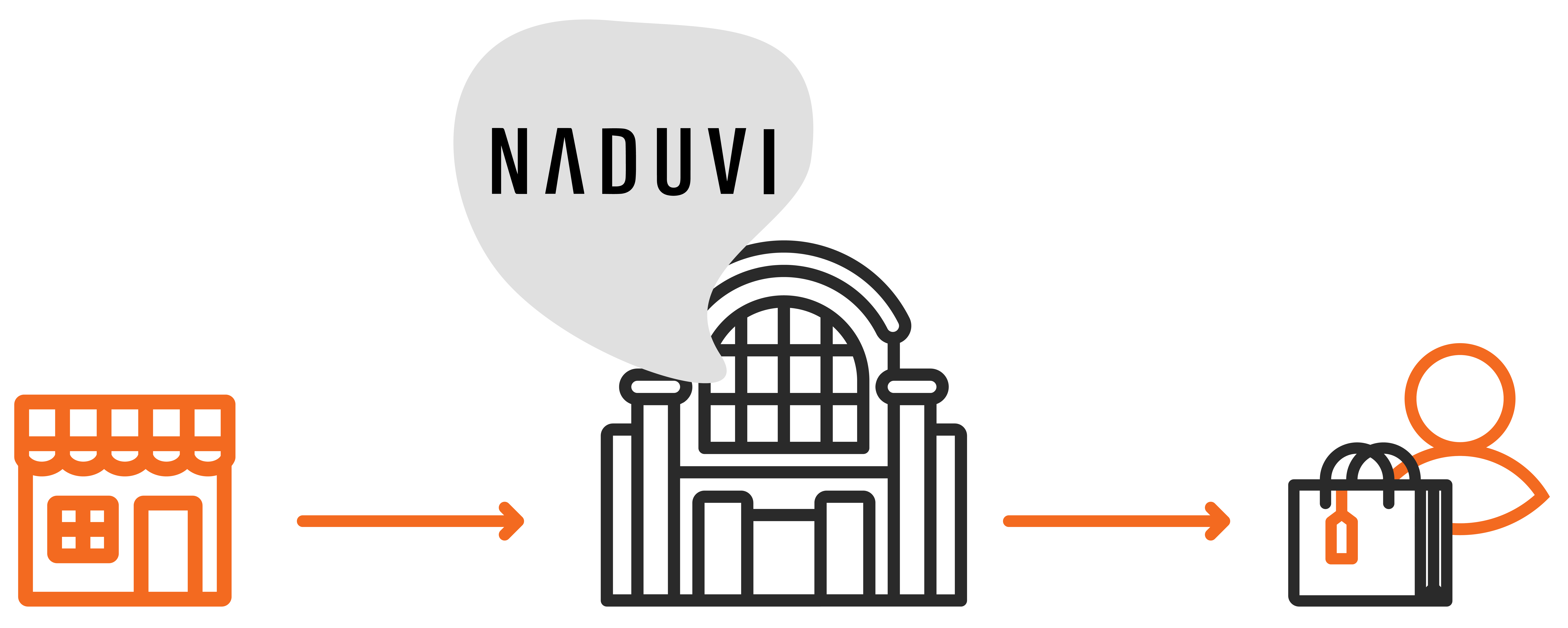 Benefits of NADUVI for brands
The online platform for home & living wants to provide a pleasant experience for both partners and consumers. To ensure this, NADUVI offers a variety of benefits such as:
Focus on customer satisfaction: NADUVI likes to focus on customer satisfaction because it has a positive effect on customer retention and loyalty. Because of this commitment, customers are eager to return to the platform after experiencing a pleasant buying process.
No monthly fees: NADUVI does not charge any setup or monthly fees, but you do pay 20% on the proceeds of products sold through their platform. This means that you don't have to pay anything if you don't sell any of your products.
No payment for returns: Customers pay for the return of products themselves. This way, as a retailer, you don't have to write off broken products that are actually still in good condition. It also prevents customers from buying products unnecessarily and then returning them.
Your own brand store: NADUVI offers the possibility to present your products in a stylish way by letting sellers on the platform create their own brand store. This way, your products will stand out and it enables you to distinguish your brand from competitors.


Additional revenue channel for brands
Using an online platform as a retailer will certainly have a positive impact on your turnover. Sellers benefit from the reach and number of visitors that visit the marketplace. Sometimes, online marketplaces offer to take care of the logistics process for you. This results in the platform handling your shipping, packaging, customer service, and even returns. This can save you a lot of time, money, and staff.

Moreover, representing your interior design brand on NADUVI comes with a touch of prestige. If you're selling products through a physical shop and webshop, enjoy providing excellent customer service, and are looking to grow your brand, then your brand fits in with other brands such as:
Zuiver;
Dutchbone;
Oilily;
Rivièra Maison;
Riverdale.
Sign up for NADUVI
Interested in becoming a partner of NADUVI? Apply via the registration form on the website. A partner manager will contact you as soon as possible to tell you more about the partnership. If you would like to discuss the possibilities for your brand with one of our experts, contact Brandsom to find out what we can do for you. Find more information on our homepage, check out our service page or contact us at contact@brandsom.nl / 030-2270520 and request a no-obligation consultation