Do you sell sustainable fashion items through the Zalando marketplace? And do you want to attract the attention of visitors who are interested in sustainability? Then it's useful to introduce one or more Zalando Sustainability labels to your products. In this article, you'll find everything about Zalando's new sustainability strategy, Zalando's sustainability labels and the requirements you need to meet to obtain one or more of these labels.
Content article:
At Brandsom we know all the ins and outs of Zalando and have helped brands get a sustainability label before. On top of that, we can also help you connect your systems to Zalando's systems through an integrator. Want to know more? Click on the arrow below to get in touch with one of our specialists.

Millennials, Generation Z and sustainability
Zalando is particularly focusing on young people: 'millennials' (in 2021 between 26 and 41 years old) and 'Generation Z' (in 2021 6 to 25 years old) are the most important target groups for the webshop. These generations are known to find sustainability as an important theme.
Certainly, Generation Z is known as the 'woke' generation. They have grown up with the scientific recognition of the human impact on climate change and are aware that this is a theme they cannot look away from, as it will play a major role in their immediate future and the future of their children. Sustainability also plays an important role in this generation in the way clothing is produced.
The corona pandemic and sustainability
More and more people are finding sustainability important when buying clothing. The corona pandemic has reinforced this trend. Although at first glance the corona pandemic may have little to do with sustainability, many people do make this link. The pandemic has shown how vulnerable we are as humans and how our future health depends on a healthy environment. Moreover, the time consumers have spent at home has caused a radical reset on priorities.
It has made people think about the impact we as humans have on our environment. In addition, it has thrown off the idea that things "just go the way they go". If we can stop the world completely because of the corona crisis, then perhaps we can also make other choices to avoid a climate crisis in the future.
Increase in demand for sustainable products Zalando
The corona pandemic has therefore led to a huge increase in the demand for sustainable products at Zalando. The number of active customers buying sustainable fashion has more than doubled in early 2020, to 40%. 34% of customers also indicate that they have started to consider sustainability as an important factor in light of the corona pandemic.
Zalando has therefore significantly expanded its sustainability assortment: from 27,000 items in 2019 to more than 60,000 items in 2021.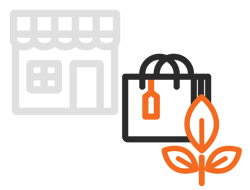 The trend towards sustainability offers opportunities for sustainable entrepreneurs
It is expected that when we come out of the corona crisis, the demand for sustainable clothing will only increase. Due to the economic crisis brought on by the corona pandemic, many consumers will have less money to spend in the future. They will therefore be more selective and buy less clothing but will place more value on quality and sustainability when buying clothing.
Also, a larger proportion of Generation Z, who as mentioned attach great importance to sustainability, will reach an age when they get jobs and have more income to spend on clothes.
Brands that do nothing in the area of sustainability will therefore lose out in the future to brands that speak out in the area of sustainability and sustainable business.
Zalando's vision on sustainability
So it's not surprising that sustainability is an important issue for Zalando. Zalando aims to empower customers to make more sustainable choices. The company itself states that it wants to be a sustainable fashion platform, with a net positive impact for people and planet. This means that they want to give back more to society and the environment than they take from it. By 2023, they want 25% of their gross trade volume to come from the sale of more sustainable products.
Three concrete ways in which Zalando wants to encourage the sale of sustainable products through its webshop are:
Sustainability labels: different labels that indicate how sustainable a product is. These labels are only given to brands if they meet Zalando's sustainability requirements.
A Sustainability filter that customers can click on to get only search results of products with at least one Sustainability label.
A new collection of sustainable clothing on the site.
What do your products have to comply with to get a Sustainability label from Zalando?
Fashion and beauty products can be marked with the sustainability label when they meet one of the sustainability criteria shown below. These criteria relate to social, environmental and animal welfare standards. The criteria are aligned with internationally recognized best practices in the fashion and beauty industry, including the Higg Materials Sustainability Index and Textile Exchange's Preferred Fibres and Materials list.
Whether you get the certification depends on the material composition of your product and/or the sustainability certifications you can provide from third parties.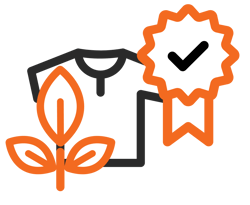 Zalando's certifications for sustainable clothing:
Organic cotton: products with this label are made of at least 50% organic cotton that is produced without the use of synthetic pesticides and fertilizers or genetically modified seeds.
Eco material: Products with this label are made from a minimum of 50% environmentally friendly materials that help to save water and energy or protect forests, such as hemp, jute, lyocell, more sustainable viscose, and FSC certified wood, paper, rubber or cork.
Recycled material: products with this label contain at least 20% recycled material, for example, old clothes, plastic bottles or fishing nets. This means less water, energy and waste than virgin materials and a smaller carbon footprint.
Eco processing (ecologically produced): products with this label are made using more environmentally friendly processes that use less water, energy or chemicals or produce less waste. This label currently includes chrome-free tanned leather, water-based polyurethane and independent certifications such as bluesign®, STeP by OEKO-TEX® and MADE IN GREEN by OEKO-TEX®.
Innovative materials: products with this label are made from a minimum of 20% eco-friendly materials, which offer innovative alternatives to leather, or breathe new life into materials that would otherwise go into the trash, such as pineapple leaves or coffee grounds. It also includes materials that reduce the use of fossil fuels.
Zalando's certifications for sustainable beauty products:
Less packaging: beauty products with this label have packaging that is either made from at least 50% recycled material, or that is specifically designed to be refilled and reused.
Organic: beauty products with this label contain at least 50% of ingredients from organic farming or wild harvest.
Natural: at least 95% of the ingredients in beauty products with this label come from plants, animals, microorganisms or minerals.
Forest-friendly: beauty products with this label help protect our forests by using 100% FSC-certified wood or paper, or palm oil from 100% sustainably managed sources.
Biodegradable: all ingredients in beauty products with this label are biodegradable.
Friendly to animals: beauty products with this label are certified by external animal welfare organizations.
In addition, Zalando also displays certifications from external parties, including:
Global Organic Textile Standard (GOTS)
Organic Content Standard
Organic Blended Content Standard
Fairtrade Certified Cotton
Global Recycled Standard
Responsible Down Standard
Responsible Wool Standard
Leather Working Group
Better Cotton Initiative
EU Ecolabel
How to get a sustainability label from Zalando: a step-by-step plan
Do you sell sustainable clothing and want your items to be tagged as "sustainable"? You can! To obtain the sustainability label you need to follow the next steps:
1. Enter the correct information through your integrator
You are responsible for entering the sustainability information in the integrator tool you use. When you enter this information, you give a 'legal self-declaration'. This means that you declare that you have entered the information truthfully and that you are legally responsible for this. Make sure you have all relevant documentation at hand, in case Zalando asks you to prove the completed claims.
2. Hand over the necessary sustainability certifications
In many cases, you need to be able to hand over sustainability certifications from external parties in order to obtain the Sustainability label. Provide all required information using XML Feeds (Integrators) or zDirect API/UI.
This includes the following information:
Sustainability label name
Certificate number
Test institute/certification body
The materials your product is made of
3. Check

Once all the required information has been sent to the Zalando PP tools, it will be checked against Zalando's sustainability guidelines.
4. Approval
After approval, the Zalando Content Creation team adds the sustainability label to the relevant products.

Need help getting Zalando's Sustainability label?
Do you sell sustainable clothing on Zalando or want to start doing so? And would you like to obtain one of the Zalando Sustainability labels mentioned above, so that your products are marked as 'sustainable'? As a marketplaces specialist, we can help you with this!
Find more information on our homepage, check out our service page or contact us at contact@brandsom.nl / 030-2270520 and request a no-obligation consultation.